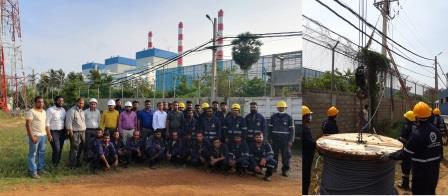 ACL Cables partners CEB and ENSTO Finland in successful completion of fourth 'ACL SAX' conductor installation project
2021-07-12
ACL Cables PLC, Sri Lanka's No.1 cable manufacturer recently completed another significant milestone with the installation of its fourth 'ACL SAX' 80mm² 33KV medium voltage covered conductor electricity transmission project.
The installation took place at a site close to Sri Lanka's largest power station, the Lakvijaya Power Plant, commonly known as Norochcholai Coal Power Plant. This is an ongoing project and was carried out in partnership with the Ceylon Ele...
MORE READ

ACL Cables PLC crowned Sri Lanka's Most Valuable Brand 2021 in the building material category
2021-05-21
Providing its dominant position once again, the nation's No.1 cable manufacture ACL Cables PLC was crowned among Sri Lanka's most valuable building material brand for 2021 according to the annual index released by Brands Finance Lanka recently.
Brands Finance Lanka, the world's leading independent branded business valuation and strategy consultancy firm declared ACL Cables as the Number 1 and most valuable building material brand in Sri Lanka with a brand rating of A...
MORE READ