ACL Cables Group records stunning 270% YOY net profit growth with Rs. 5.1 Bln end of Q2 2022
2022-12-01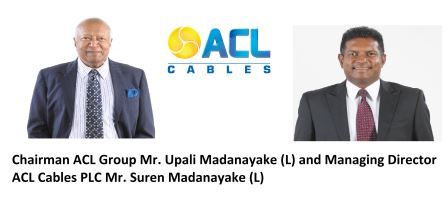 Continuing its landmark achievement of a mammoth 705% year-on-year (YOY) growth in Q1 2022, ACL Cables PLC, the nation's No.1 cable manufacturer, posted a remarkable 270%, YOY growth in Q2 2022 for the period ended in September 2022, with Rs. 5.1 Bln as Net Profit after Tax as a Group, compared to Rs. 1.4 Bln the same period last year.
Furthermore, as a Company, ACL Cables PLC posted Rs. 1.9 Bln Net Profit for the same period with a growth of almost 250% in comparison to Q2 2021, which is a similar performance to its group.
Most significantly, the group as well as the company was able to match its total net profit recorded for the last financial year by the end of Q2 this year, despite challenging business conditions.
Revenue for the Group was Rs. 16.9 billion, while the company revenue was recorded at Rs. 9.3 billion.
As a result of the significant cost saving initiatives adopted, both the Group and Company maintained a notable decrease of 30% & 18% in its cost of sale respectively for the period under review. Additionally, distribution and administration costs were also maintained at a minimal rate.
Commenting on the historic achievement, Suren Madanayake Managing Director ACL Cables PLC said, "This has been a great success for us as a Company and a Group. Our cost saving programmes that were initiated immediately after the Covid-19 pandemic have paved the way for us to gain impressive numbers this year. I believe we need to maintain these figures for the coming months, as the immediate future looks more challenging than the period we have concluded."
He added, "We have developed effective cost control systems that will not diminish our business efficiencies. This model and procedure will be extended more within the Group to strengthen our numbers for the incoming financial quarters. I am extremely confident that we could end the second quarter on a similar higher note and set the ideal foundation for another promising year ahead."
Q2 growth reflects ACL Cables trajectory toward strong growth achieved in the previous financial year. ACL Cables recorded Rs 36 Bln revenue with a 60% YOY growth and Rs 5.2 Bln net profit with 200% annual growth as a group for the financial year ended 31 March 2022. The Company recorded a Rs. 19.8 Bln revenue with a 51% YOY growth and Rs 2.1 Bln net profit with 187% annual growth as a Group for the financial year ended 31 March 2022.
ACL Cables leads the industry in manufacturing and marketing electrical cables. It has extended its product portfolio further into switches, low voltage circuit protection devices (MCB, RCD and Isolators), ceiling fans and many more other electrical accessories. ACL Cables remains as the only electrical company to rank amongst Sri Lanka's top 40 business entities.